The Township is one of the largest residential areas of Lahore. The Township scheme has four main sectors A, B, C, and D. Township markets, schools, mosques, restaurants, food chains, and banks are established.
Sector A
Sector A comprises two sections A1 and A2. A1 is fully maintained and managed by Government employees.
A1 contains houses ranging from 4½ M to 1 Kanal. It has a middle school, a mosque, and five parks.
Section A2 involves one public school, four primary schools, and six parks. Houses range from 4½ M to 1 Kanal.
Haider road separates the two sections.
Sector B
Sector B has sections B1 and B2. Sector B of Township Lahore has the primary market, 16 parks, a high school for boys, a primary school for girls, and a graveyard.
A much larger portion of B1 comprises smaller houses than bigger ones.
In B1, we find Quarter M, 10 M, 1 kanal, 2 kanal and 4 kanal.
While B2 has houses of 4½ Marla, 10 Marla one Kanal and 2 Kanal.
Sector C
Sector C is famous for wedding and marriage halls. This sector has two sections C1 and C2.
C1 section has plots and houses of 10 M, one Kanal, 2 Kanal, and 4 Kanal.
C2 section comprises houses of 4½ M, 10 M, one Kanal, and 2 Kanal.
College Road separates the Sector from Johar Town.
Sector D has sections D1 and D2.
It is joined by sector C on its North West; on the other hand; section A is separated by colleges, educational institutes, and hospitals.
Hamdard Chowk Township Lahore is a few minute's drives to Minhaj ul Quran University. Houses of 4½ M, 10 M, 1½ K, and 2 Kanal can be found in section D1.
While section D2 contains houses of 4½ M, 10 M, and 1½ kanal only.
Green Town Road separates the sector D from Quaid-e-Azam Industrial Area.
Moreover, the most massive water tank fulfills the needs of sectors C and D.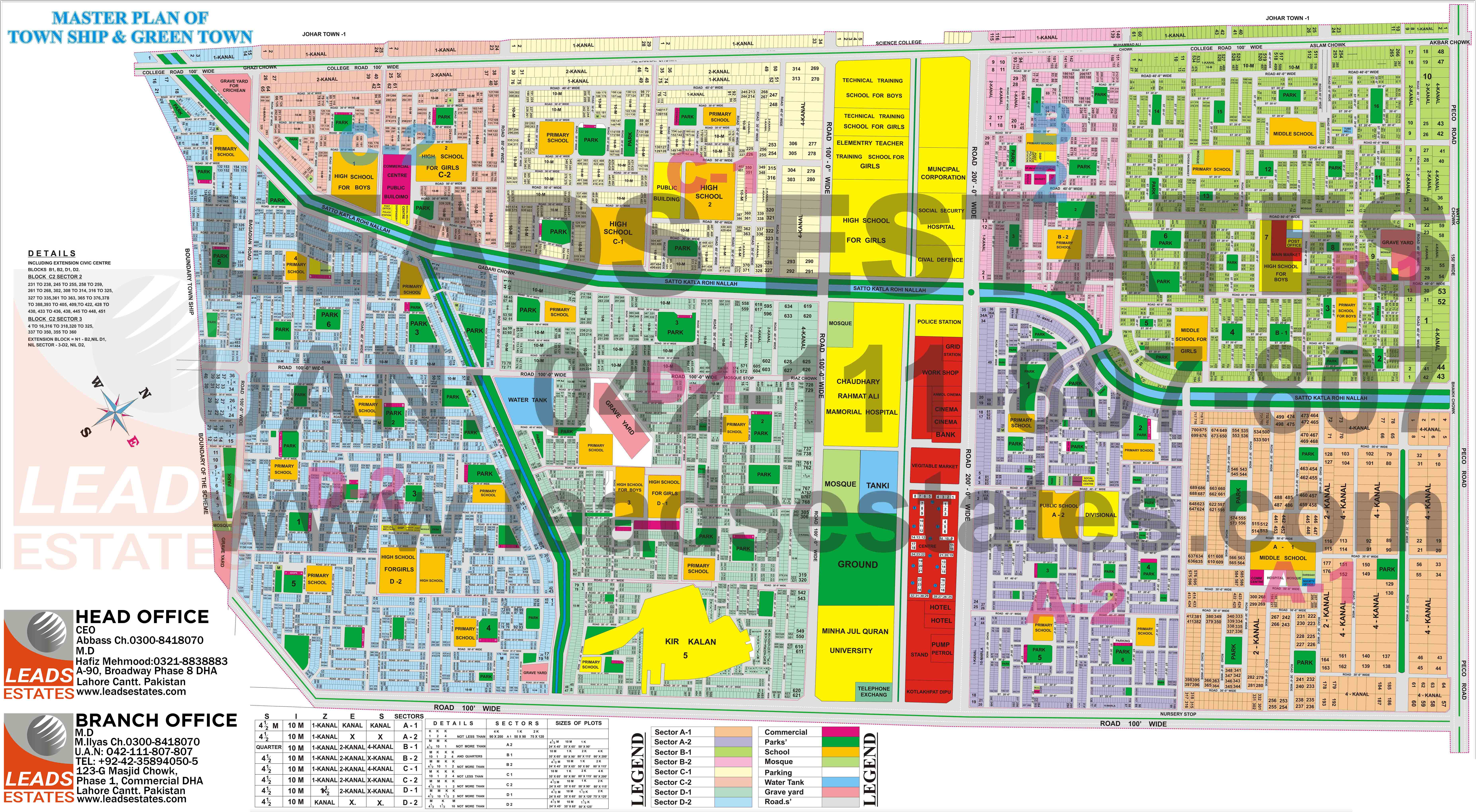 click on the image to zoomify it.