Sun City Housing Scheme is one of the emerging societies of Pakistan. It has been divided into five sectors A, B, C, D, and E. Sun City Housing Scheme provides a wide range of commercial and residential plots and parks, mosques, parking areas, and graveyards.
Sun City society is just 15 minutes drive from Ferozepur Road Lahore.
SECTOR A
This sector of the society has residential and commercial plots ranging from 2 Marla to 2 Kanal. Its international standard school provides quality education. Sun City sector A possesses a graveyard and parks of different sizes.
SECTOR B
Sector B has a commercial market with 4 Marla, 5 Marla, 6 Marla, 7 Marla, 9 Marla, 17 Marla, etc. It comprises parks of 1 Kanal, 19 Marla, and 19 Marla, respectively. It also has a mosque and a graveyard.

SECTOR C
Sector C provides us with commercial and residential plots ranging from 3 Marla to 10 Marla. Sun City's hospital that expands on the area of 3 Kanal and 8 Marla provides quality medications.
This sector has two parks and a graveyard.
SECTOR D
This sector provides our plots with various sizes ranging from 3 Marla to 19 Marla, including commercial Plots and parks.
SECTOR E
This sector of the sun city housing scheme Lahore shows plots of varying sizes. It has plotted for commercial or residency of 3 Marla, 4 Marla, 5 Marla, 6 Marla, 7 Marla, and 10 Marla.
The sector has a park and mosque of 7 Kanal, 4 Marla, and 1 Kanal 13 Marla.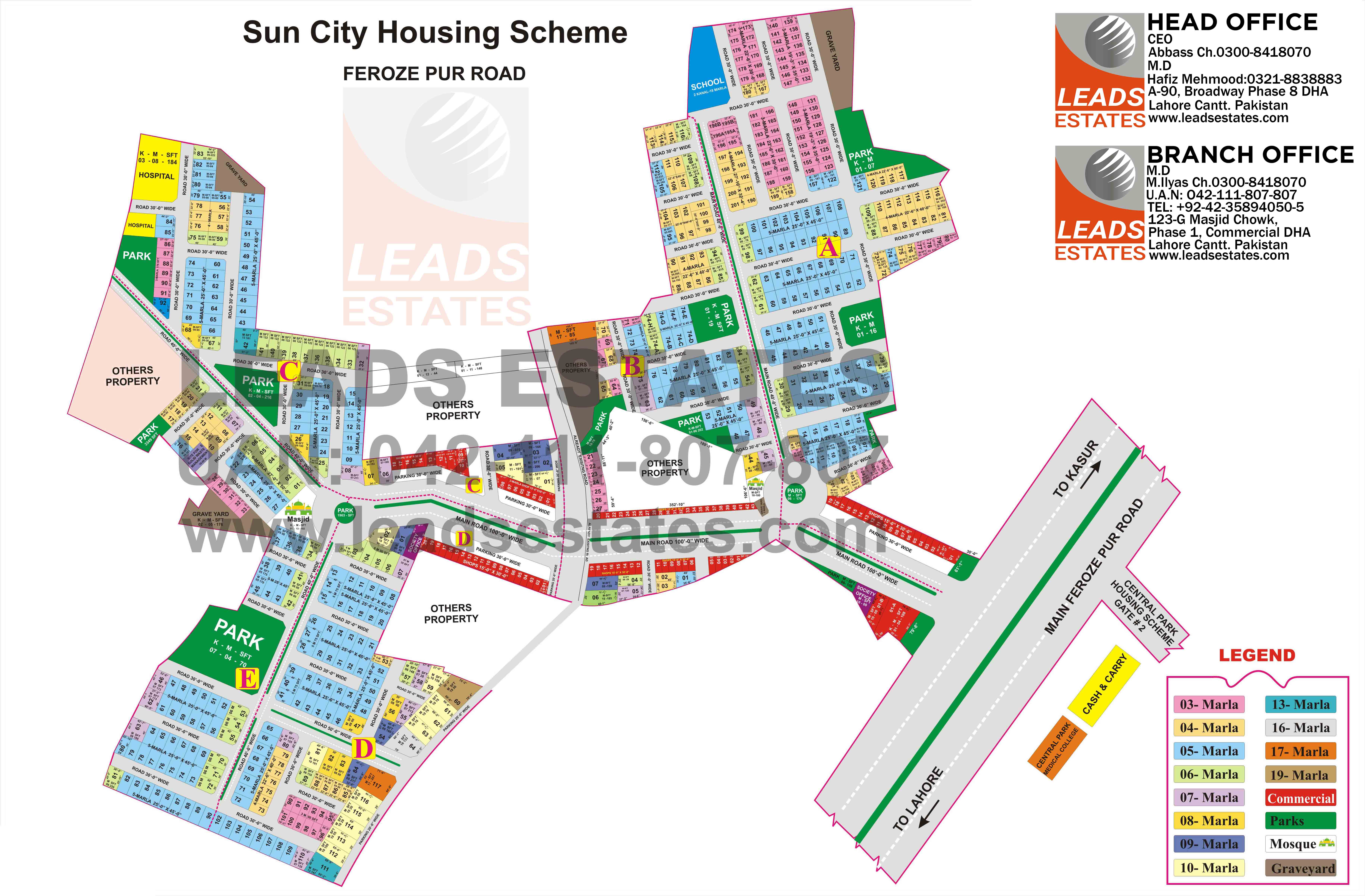 click on the image to zoomify it.