PHASE 1
State life housing society Lahore is one of the emerging societies of Lahore. It is facilitating its residents with a variety of plots, parks, and other commercial areas.
BLOCK A
The first block of phase 1 is embedded with 6 Maral, 10 Marla, one Kanal, and 2 Kanal. A school, parks, a mosque, including the Main Boulevard, D.H.A. interchange makes the block a right place.
BLOCK B
State Life Phase 1 comprises a Central park of 43. 27 Kanal, and few small gardens add beauty to the block. A P.A.F. area of about 7.43 Kanal is also present.
There are plots of 8 Marla and two Kanal.
BLOCK C
The map of state life phase 1 shows that this block consists of plots from 1 Kanal to 2 Kanal with a park of 13 Kanal and a check post. The green belt on its side has beautified it. This block is a few minute's drives from Lahore Ring Road.
BLOCK D
This block contains plots of 2 Kanal, a park of 10 Kanal, shops, and a community club, with few small Parks and green belts.
BLOCK E
Block E of the state life housing map says that it has plots of 6 Marla with a mosque, a commercial area of 1.8 Kanal, and a park.
BLOCK F
Plots of 5 Marla, 6 Marla, and 8 Marla, along with a large commercial area, society office, mosque, parks, and green belts, are present in the block.
BLOCK G
Block G is a commercial block overall, but a few residential plots ranging from 5 Marla to 10 Marla with parks, school, a fountain, mosque, graveyard grid station, and a government road passes through the phase.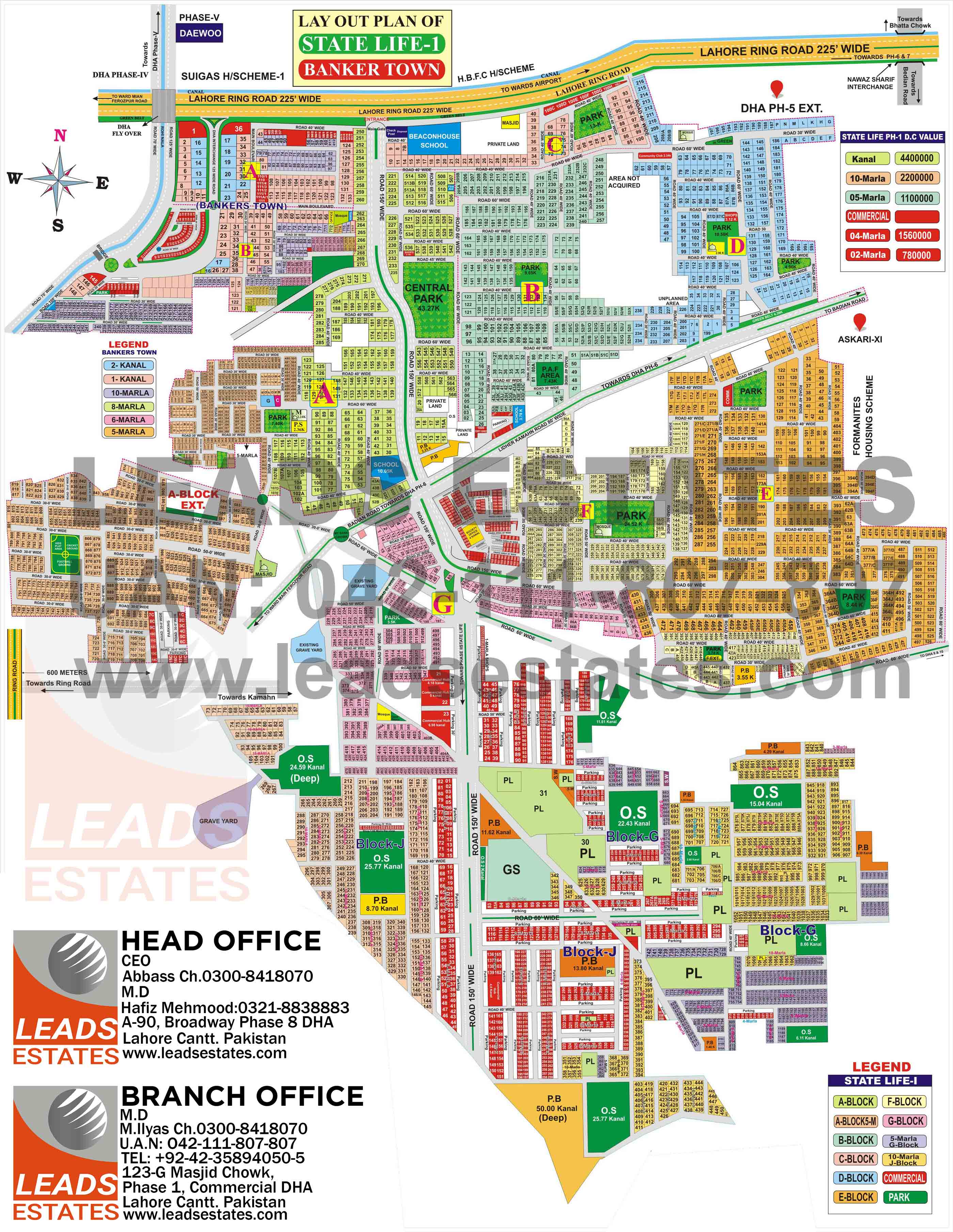 click on the image to zoomify it.