PHASE 2

NFC housing society, which is situated near Satta Katla Village, is a registered cooperative society. Phase 2 of this society is located near Bahria Town Lahore. National fertilizer corporation employees housing scheme comprises plots of different sizes. It is one of the luxurious and affordable housing schemes. It has many blocks possessing parks, mosques, schools, hospitals, residential and commercial plots.
Block A,B and C
Block A has plots of 10 Marla and 1 Kanal, including commercial areas. It also has a school that provides quality education and parks. A private farmhouse is also present in the block.
NFC housing society Lahore maps show that Block B has residential plots, parks, a Jamia Mosque, and a village that connects block B and block C.
Block C has plots of many sizes, parks, commercial shops, and a school at 6.85 Kanal. Block D consists of Pots of 1 Kanal and Commercial shops. A lush green Park also lies there.
Block E,F,G and H
Block E of the NFC housing society Lahore comprises 1 Kanal, commercial shops, clubs, and Commercial centers. A small park and a central park at 185.03 Kanal beautifies the area.
Block F has plots of 5 Marla and 10 Marla, a park, and a mosque. According to the map of NFC housing society, Block G contains a Park and plots of 5 Marla, 10 Marla, and 1 Kanal. Commercial areas and shops are also available.
Block H possesses houses of 5,10 Marla and 1 Kanal. It also contains two public buildings, parks, and a mosque. Commercial shops are also found in the block.
Block J,K and L
BLOCK J, Block K, and Block L comprise 5 Marla, 10 Marla, and 1 Kanal. They include parks, public buildings, and commercial shops.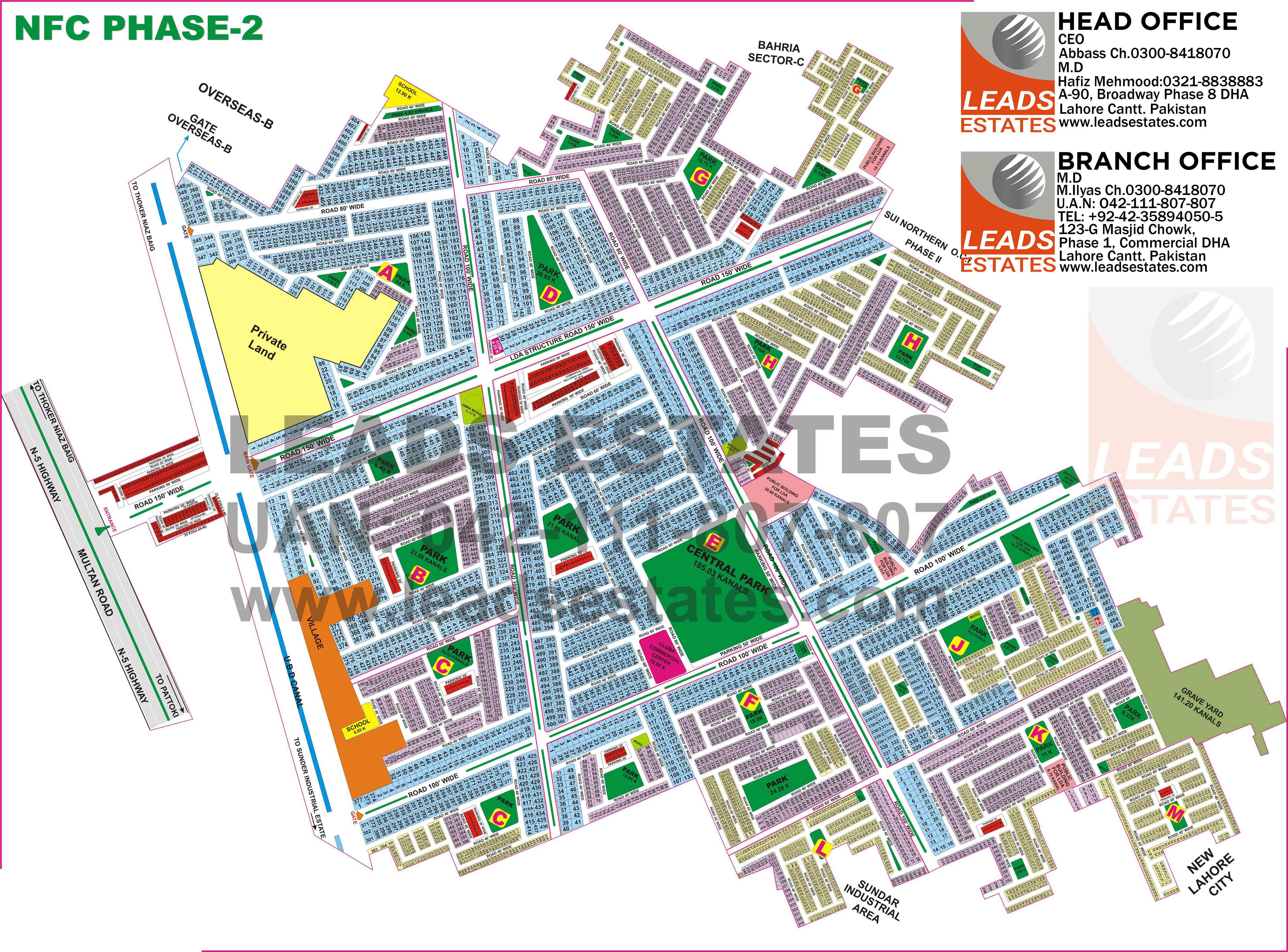 click on the image to zoomify it.