Govt. housing scheme is one of the most significant housing plans ever made by LDA. It is directly connected to Ferozepur Road Gajumata Station.
This project was first started back in 2002, primarily for the Govt. Employees. Many authorized developers are partners in the project, including Paragon City and Urban developers. Wide road networks, electricity, school, transport system, Jamia Masjid, graveyard, sports complex, and much more to facilitate the residents. It has several plots spread all over the project from block A to block M.
Block A
comprises residential plots of 10 Marla and 1 Kanal. It also includes parks, playgrounds, a mosque, a school, and public buildings. Fatehabad village and few industries are also found in the area along with commercial plots.
Block B, C and D
has residential Plots and a commercial building, 2 Schools, and parks. Map of LDA Avenue 1 Lahore shows that Block C possesses schools, parks, residential plots of 10 Marla and one Kanal, commercial areas, public buildings, and a village named Hidayatabad.
Block D has plotted for residency, commercial shops, parks, public buildings, and a school.
Block E,F,G,H,K,L and M
LDA city map indicates that Block E has residential plots, a school, and parks. It lies near the Green Forts Housing Scheme.
Block F, Block G, and Block H have residential plots, commercial shops, parks, public buildings, schools, graveyards, and mosques. High schools, colleges, a central park, and a hospital also facilitates the residents. According to the LDA city map Lahore Block J, Block K, Block L, and Block M contain 10 Marla and 1 Kanal. Moreover, public buildings, industries, schools, colleges, medical centers, commercial properties, and parks possess the area.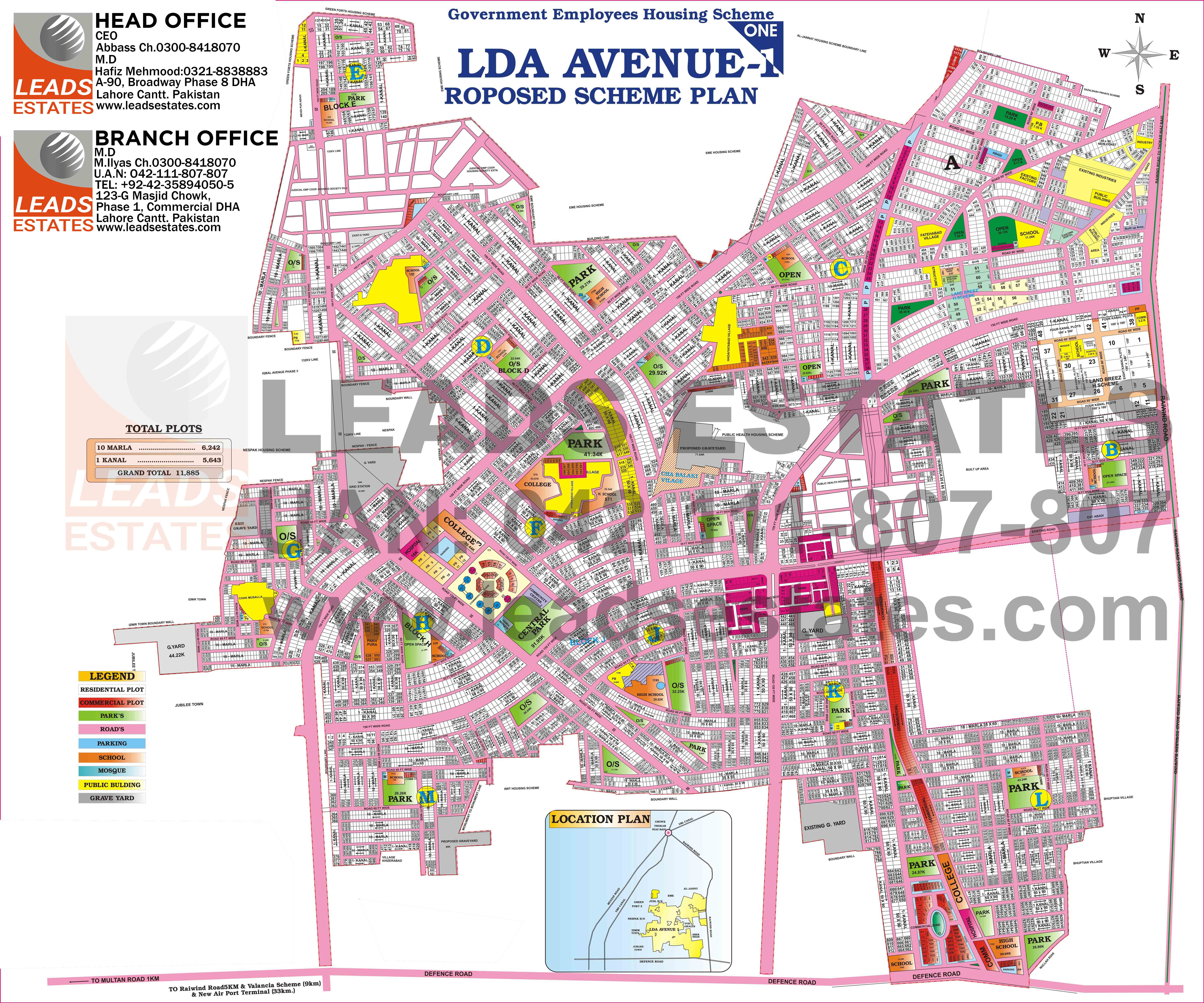 click on the image to zoomify it.