DHA Lahore Phase 4 is one of the entire developed Phase no more development work is being undertaken here, Which gives quality living standards to its residents. It is a well-planned Phase.
Phase 4 Lahore is near Gazi Road. It is located next to DHA Phase 3, DHA Phase 5 and, Sector S of DHA Phase 2. The ring road is 3 km away from DHA Phase 4 Lahore.
It is 4 minutes away from the National Bank Officers Cooperative Housing Society. Punjab Cooperative Housing Scheme is situated towards the Southern border of Phase 4.
The Lahore University of Management Science is near DHA Phase 4. Phase 1 to 5 are fully developed, and families are settled there.
DHA Phase 4 Lahore is divided into sector AA, BB, CC, DD, EE, FF, GG, HH, and JJ. DHA Phase 4 has a comprehensive plan. For each sector.
1 Kanal Residential Plots are located in DHA Phase 4 Block CC.
There are parks in each sector. HH park is the largest and most visited park. CC Park and the Askari Park are also two notable Park of DHA Phase 4. Packages Mall on Walton Road one of the nearest Mall to DHA Phase 4 Lahore.
There is a wide range of Chinese, Italian and, Pakistani cafes and restaurants for food. Furthermore, two central Commercial Markets, DD & FF, serve the commercial needs of its residents. Sector DD and FF is the most adoring area of this Phase. By using DHA Phase 4 map, one can easily find the location.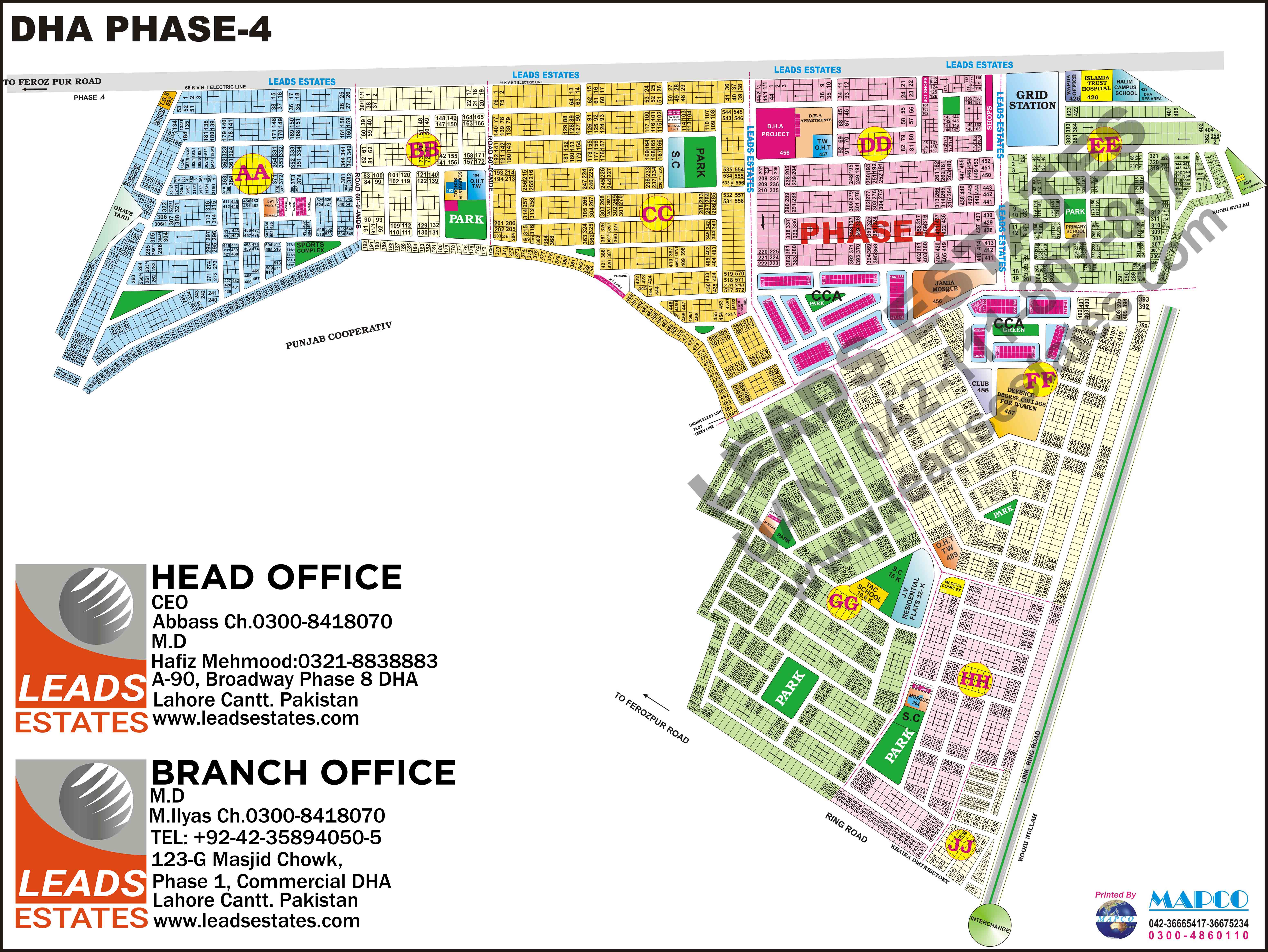 click on the image to zoomify it.