DHA Phase 3 is known for its rich living style. It is accessible from Walton Road and Ferozpur Road, which makes it a perfect location for Residents. Walton Road has located North of DHA Phase 3 Lahore. On the map, ghazi road is situated towards the south of Phase 3 Lahore. DHA Phase 3 map shows The Package Mall is 5.2 km away from this Phase, located on Walton street Lahore.
DHA Phase 3 is considered the top Phase of DHA because of its prime location and modern living standards. It has 7 Parks, a commercial market of Y and Z Block. DHA Phase 3 Lahore has a vision of changing the face of living in concept in Pakistan.
This society provides many facilities such as a safe and secure environment, Educational institute, Health care units, Mosque, and many more.

DHA Phase 3 accommodates various Sectors, like Sector W, Sector X, Sector XX, Sector Y, Sector Z.
Sector W
This Block of society has Green Pharmacie, Jamia Masjid, Ibn-e-Sina College, Beaconhouse School, Auditorium, and, Basketball court.
Sector X & XX
Sector X is 1.5 km away from Sector XX. There is a graveyard in Sector X. Rising Sun Institute for Special Child is located in Sector XX.
Sector Y & Z
DHA Phase 3, Lahore, is known for its Y-Block Market. There is a known brand of clothes, shoes and other necessities. DHA Phase 3 Y Block has Sheeba Park, Goal Plaza and, banks, medical center, sports complex, community club,(swimming pool, tennis, court, snooker tables, and other facilities.
Block Y & Z are neighbors. Nando's is an international restaurant located in DHA Phase 3, Z block.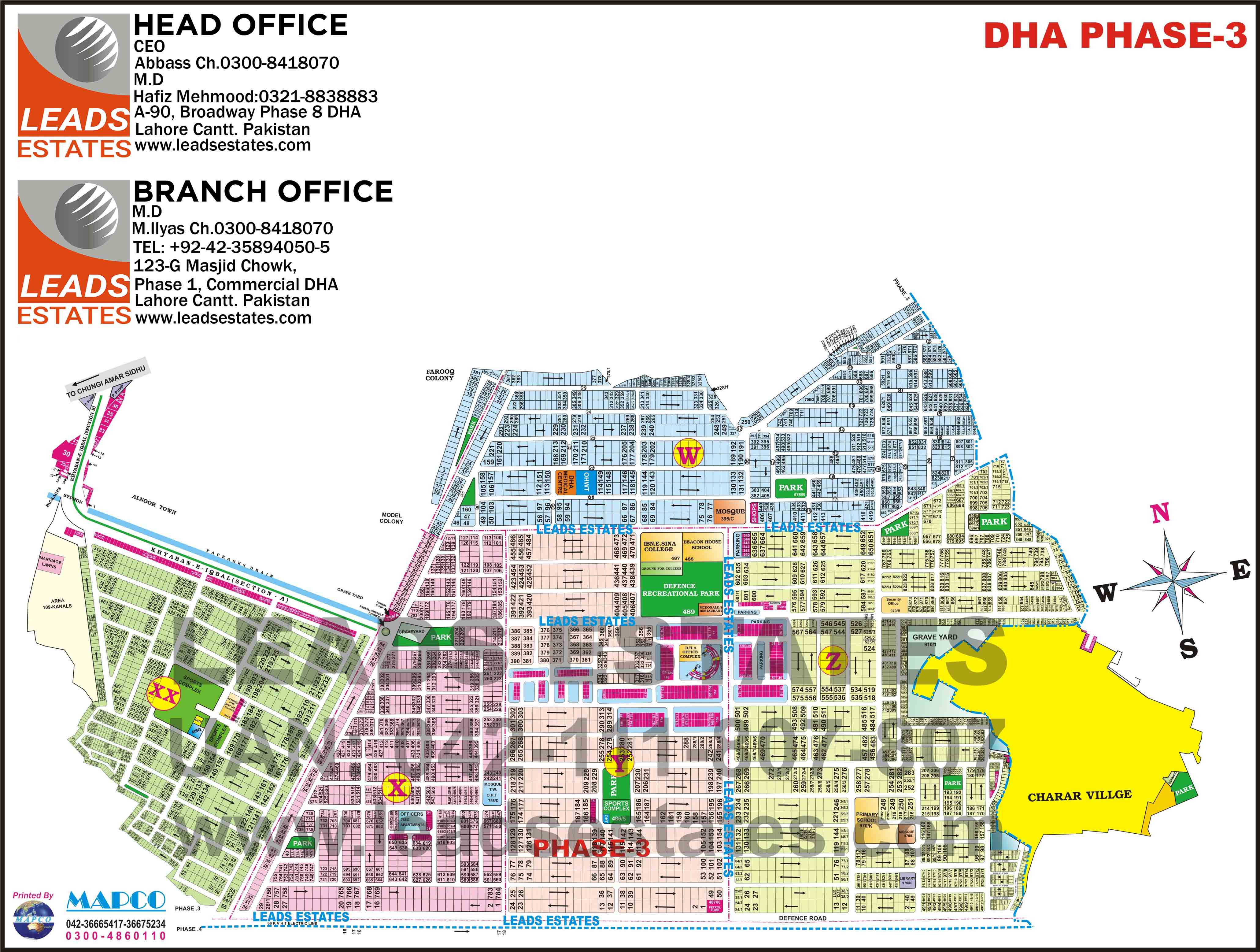 click on the image to zoomify it.