CHINAR BAGH HOUSING SCHEME LAHORE Chinar Bagh is located on the Raiwind Road Lahore. It is 2 Km from Lake City and 3 Km from Fazaia housing society. Moreover, it is just 2 Km from Bahria Orchard.
It is divided into many blocks, namely, Bolan, Mehran, Khyber, Kashmir, Punjab, Rashna, Jhelum, Nishat, and Shaheen. Chinar Bagh has residential and commercial plots of 5 Marla, 10 Marla, 1 Kanal, and 2 Kanal. Mosques, green areas, parking, and a few public buildings According to the Chinar Bagh map, Bolan Block has residential and commercial plots along with parks, mosques, and an entrance from the Raiwind road.
Mehran block comprises residential and Commercial Plots. Lake City lies nearby. Chinar Bagh Lahore map shows us that blocks Shaheen, Khyber and Rashna possess parks, residential plots, commercial areas, tube well, a mosque, and a public building. There is a graveyard, grid station, sewerage disposal point, and commercial Area with parking near the Kashmir block.
Nishat block has residential plots and has a boundary wall too. Moreover, it has easy access to Jia Bagga Road. Jhelum block comprises Plots for residency and commercial purposes, parks, mosques, club and community Centre, post office, society office, and a few minutes distance to Jia Bagga railway station. It is just 200 m away from railway lines.In addition to this, it has a school too. Punjab block has residential plots and has an extension and easy access to Raiwind road.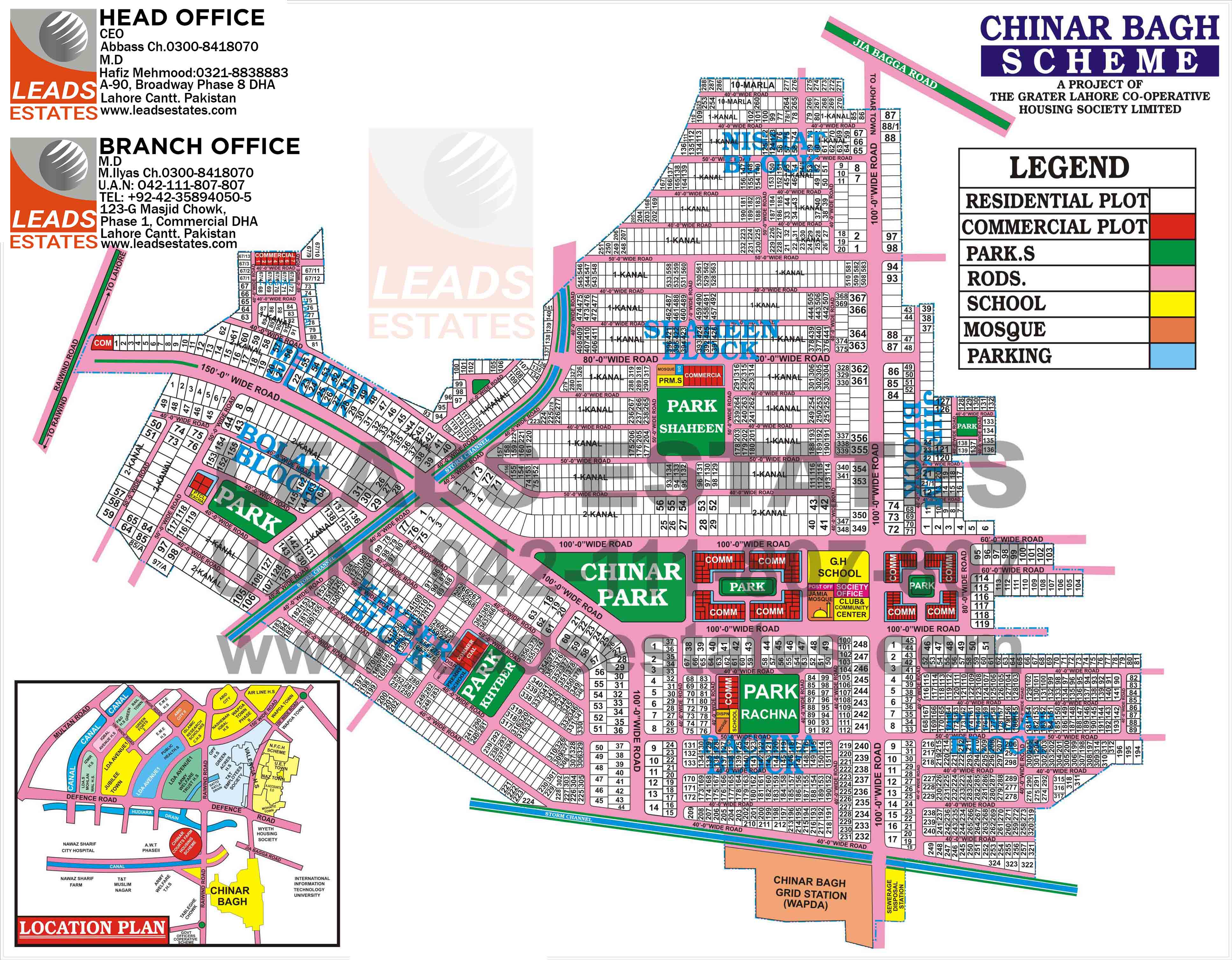 click on the image to zoomify it.